All-New 2016 Honda Civic Named the Best of the Best
February 12 2016, Village Honda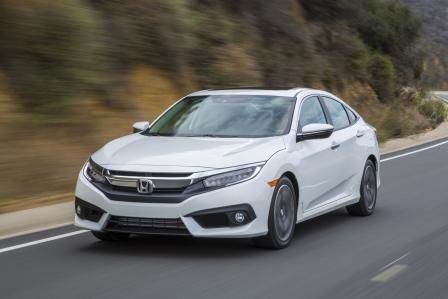 10th-generation Civic adds to list of accolades with first-ever CAJ Bear award
TORONTO, On. Feb. 11, 2016 – The all-new 10th generation Honda Civic was named the 'Best of the Best' by the Canadian Automotive Jury (CAJ). This represents the first time Honda Canada has been the recipient of the CAJ Bear trophy, adding to its growing list of accolades."
"We're grateful to this esteemed group of automotive journalists for selecting the 10thgeneration Honda Civic from a fiercely competitive group of contenders as the best car for Canadians," said, Jean Marc Leclerc, Vice President of Sales and Marketing, Honda Canada Inc. "The all-new Civic is the most innovative, ambitious and advanced iteration Honda has ever produced, setting a new benchmark in the compact car segment and we're thrilled that the Canadian Automotive Jury shares the sentiment."
Truly all-new, the 2016 Civic features a new vehicle architecture; sporty and sophisticated new interior and exterior styling; a more spacious and high-quality cabin; two advanced new engines; and a host of new available premium features and technologies, including the first application of both Apple CarPlay®1 and Android Auto™2 in a compact car sold anywhere in the world.
The CAJ's 'Best of the Best' is an automotive award of excellence that is presented annually by some of Canada's most established automotive journalists. This unique award recognizes "the one and only, best of the best."
The Canadian Automotive Jury is a not-for-profit organization independently funded by its 11 Jurors and Secretary, all veteran automotive journalists that contribute content to print, online, television and radio outlets across Canada.
About Honda Canada
Honda Canada Inc. was founded in 1969. It has produced more than seven million cars and trucks since 1986 at its two manufacturing facilities and builds engines at a third manufacturing plant in Alliston, Ontario. Both manufacturing facilities are extremely flexible and currently build Honda Civic and CR-V models. Honda Canada has invested more than $3.9 billion in Canada and each year it sources nearly $2.1 billion in goods and services from Canadian suppliers. Honda Canada has sold more than four million Honda and Acura passenger cars and light-duty trucks in Canada.