All-New 2016 Honda Civic Named the Canadian Car of the Year by AJAC
February 11 2016, Village Honda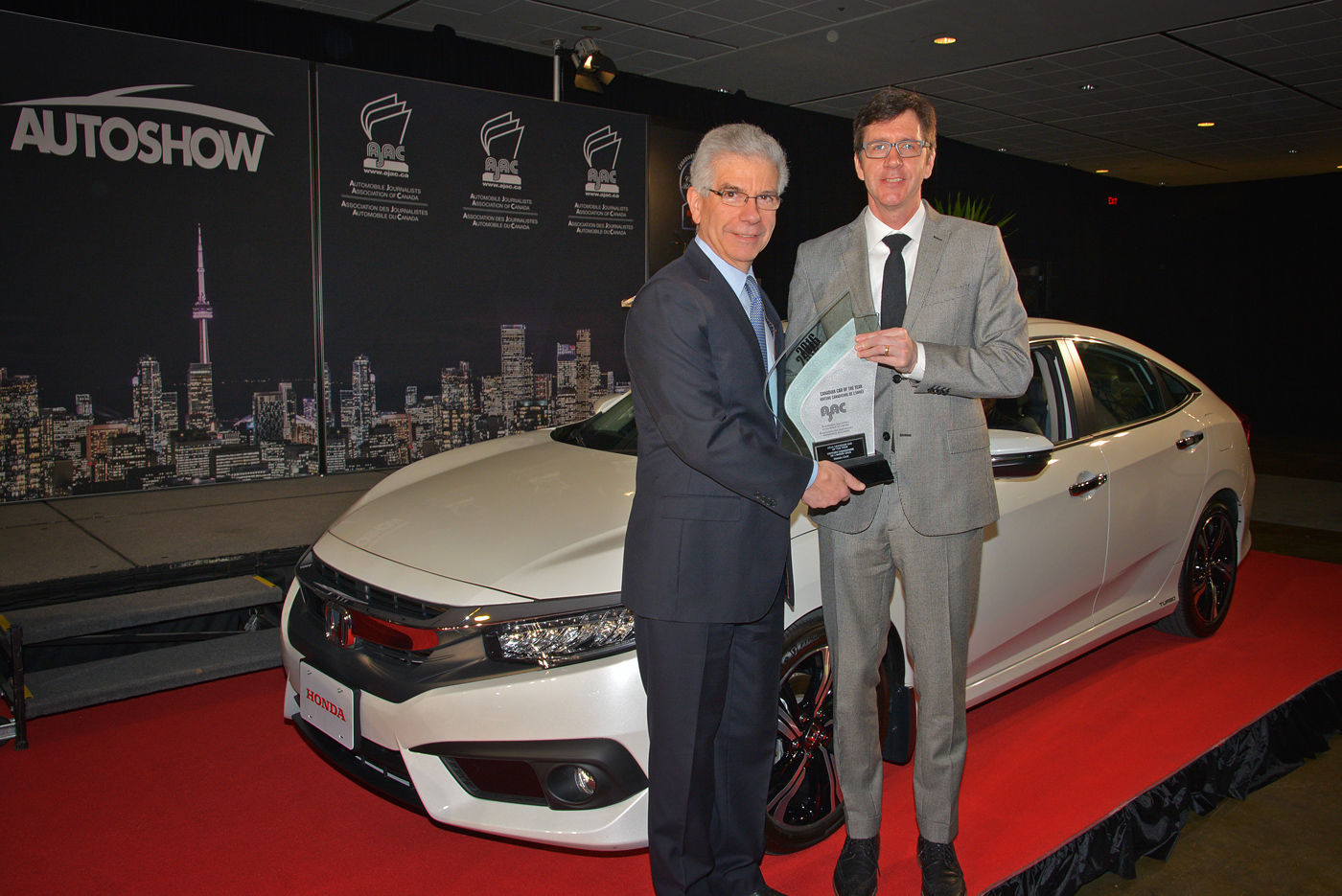 TORONTO, ON (Feb. 11, 2016) – The completely redesigned, reengineered and reimagined 10th generation Honda Civic was named the Canadian Car of the Year by the Automobile Journalists Association of Canada (AJAC) today at the Canadian International Auto Show in Toronto. The Civic, which has been the best-selling car in Canada for 18 consecutive years, is built at Honda's manufacturing facility in Alliston, Ontario.
"On behalf of the thousands of Honda associates across the country including the more than 4000 at our HCM facility who lead global production of The 10th generation Civic, I'd like to thank AJAC for this award," said Jerry Chenkin, President, Honda Canada Inc. "The all-new Civic is the most innovative, ambitious and advanced iteration Honda has ever produced, setting a new benchmark in the compact car segment and we're both elated and humbled that AJAC has recognized this achievement."
Truly all-new, the 2016 Civic features a new vehicle architecture; sporty and sophisticated new interior and exterior styling; a more spacious and high-quality cabin; two advanced new engines; and a host of new available premium features and technologies. Further, with the addition of Honda Sensing™ safety and driver-assistive technologies and the first application of Honda turbo engine technology to Civic, the 2016 Civic offers buyers a wider range of options than ever before.
The 10th generation Civic Sedan and Coupe are built at the Honda of Canada Manufacturing Facility in Alliston, Ontario which also acts as the global lead plant for Civic production. More than 4.5 million Civics have been built at Honda's manufacturing facility since 1988 and Civic sales in Canada exceed 1.9 million units.
About Honda Canada
Honda Canada Inc. was founded in 1969. It has produced more than seven million cars and trucks since 1986 at its two manufacturing facilities and builds engines at a third manufacturing plant in Alliston, Ontario. Both manufacturing facilities are extremely flexible and currently build Honda Civic and CR-V models. Honda Canada has invested more than $3.9 billion in Canada and each year it sources nearly $2.1 billion in goods and services from Canadian suppliers. Honda Canada has sold more than four million Honda and Acura passenger cars and light-duty trucks in Canada.
About AJAC
AJAC is an association of professional writers, publishers and photographers whose focus is the automobile and the automotive industry. AJAC, a not-for-profit professional organization incorporated in 1981, was established to encourage unity among journalists who specialize in reporting on the automobile. AJAC manages the annual Canadian Car of the Year awards program.